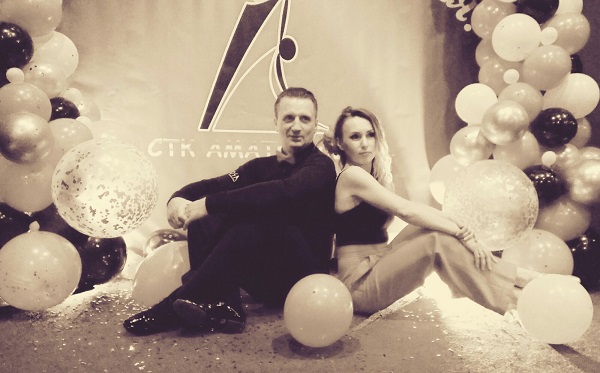 ANDRIY KOKODYNYAK – OKSANA KHOMIAK: LVIV'S ENERGIZERS WITH THE GRIP OF CHAMPIONS
The current winners of the Ukrainian Ballroom Dance Cup in the Senior category, representatives of the Lviv's Edelweiss Dance Club, are completely different in life but become a single whole on the floor.
They're different indeed, but it's an advantage – they complement each other. Energetic, purposeful, sometimes unstoppable, sporty bold lady partner. Almost a tsunami.
Calm and gentle, but at the same time concentrated partner. Together they're fun and easy-going. Sometimes they even look like conspirators. In dancing, they're self-critical and strive for progress.
The couple Andriy Kokodynyak – Oksana Khomiak have been participating in tournaments relatively recently, which means they still have everything ahead. In any case, their eyes are burning with desire and they're craving new challenges. The story of the appearance of this couple is unusual and maybe wasn't meant to be an example, but that's the cream.
Oksana: He is my first partner, and I'm his seventh lady partner. Mostly, partners in senior couples are married, and we're those two percent of unmarried. Naturally, we had different paths to dancing.
I didn't take any dance classes in my childhood, so I can't say I was learning, then quitted and came back. No, it started 8 years ago. I went out of my maternity leave and was searching for something to do. I went to regular fitness with my friend. It was boring to do squats and push-ups 50 times. But near my house was a dance studio, where some classes were held. So I went there and looked at the schedule on the doors. In the most convenient time for me, there were ballroom dancing classes. So I chose them. There was a hobby group, a branch of Edelweiss club. Such a female dance group, I'd say. For 4 years we've been training, performing show numbers, arranging some concerts. Our coach, Roman Andriychak, tried to create some interesting show numbers. I remember a beautiful Viennese Waltz, Pasodoble, Samba.
At some point, Andriy came to us. At first, he was dancing with another partner. But sometimes she couldn't come, sometimes he couldn't as well, so it didn't work out. Then Andriy came to me and said: "Let's try to dance together."
Andriy: Who said, me? No, or maybe yes, I just don't remember.
Oksana: First, it was hard. I was told that he already danced there and even participated in competitions and had many partners before me. In short, it was very difficult for him to whip me into shape.
Andriy: First, it was a bit uncomfortable because we have some height difference. I was dancing since childhood – parties, etc. After a drink, I was such a cool dancer (laughing). And now the more I train, the more I realize – I can't dance. But it all started so simply. The eldest daughter said, "Dad, I don't care, but we should dance the Waltz at my graduation party." Although we didn't dance, it motivated me to learn. I was 35 years old. Further, the classic scenario – here, there, and left in that hobby group. Moreover, there is always a lack of partners. We went to another class where girls were training and, "Partner! Come here!" – right away. Surprisingly, I didn't mind.
– There were so many partners before Oksana?
Andriy: Yes. I do not even count local competitions, I've participated with many partners. And only with fifth, I took it seriously. It was Lesia. But then, when I was dancing with the next one, I had a health problem with my knee. The age difference between us was 20 years. She wanted to go forward. And I told her, "Go and find yourself a young partner."
Oksana: But the soul claimed dancing…
Andriy: About six months later, I resolved my knee-problem and I was looking for a partner. And where to find one? Where people train, so I went there. And this is how I became Oksana's partner.
Oksana: Those were good times. In Roman Andriychak's group, it was always cozy and felt like home. But it was only a hobby group. And then Andriy said, "If we want to work for the result, and not for ourselves, let's  move on." And we went to the adult group, where Vsevolod Levitsky trains.
Andriy: It was important to pull Oksana out of that hobby group so that she could see the difference in level.
Oksana: Now we train four times a week. Two group lessons per week, one-time private lessons and practicing.
– Was the coach eager to work with you?
Andriy: Our coach is always ready to work with dancers. It only depends on your desire and hard working. You come to the coach, he fits in with your level and works based on your capabilities. If you can better – he demands more.
Oksana: The coach sees your attitude towards dancing, whether you're ready to improve yourself. His attitude changes accordingly because he wants to invest his knowledge and skills in those who want it.
– First impressions of tournaments in which you took part?
Oksana: When we started, we couldn't imagine everything would be so serious. I think it all started in 2016 when we took part in the Lviv region Championship. We performed well, and so it has begun.
Andriy: Well, the tournament went well, because only 2-3 couples participated in our category, not 30, where we wouldn't reach the next round.
Oksana: It's true. By the way, then Elizabeth and Igor Gurshals were still dancing. It was their last tournament.
Andriy: Maybe they just saw us and realized – it's time for the next generation (laughing).
Oksana: There are not so many Senior tournaments in Ukraine, and we, to practice managing our stress, often go to the Youth+Adult RS category. We want to try our hands amid younger ones. Sometimes it's ridiculous. When we go to the change room, there is only youth. The questions begin: "Oh, you brought children here to dance? Or will you perform a showcase?". They see we don't fit there. It's confusing. On the other hand, parents are very supportive because we are the same age as them. They applaud their children and us at the same time.
Sometimes judges react very strangely. When we step on the floor, they see that we're dancing technically better than some couples. But we don't have a single cross, because everyone knows – we're seniors. If you want to try the floor, please, but crosses are for those who need it.
– Does the coach coordinate you in which tournaments you should take part?
Oksana: Of course not. I think when it comes to senior couples, it's important for the coach to accept the fact that partners are grown-ups, they have their own life rhythm, so you can't tell this couple where to dance. They aren't children or juniors. They should change their lives to have time for dancing.
In December 2018 we took part in our first International Championship in Riga. When you participate in such a tournament for the first time, your eyes are wide open, and as a senior, you begin to understand what prospects you have. This is a completely different dance world. And after this tournament, our coach said: "You need to change your routine to the appropriate one." So we started to change some figures. The coach is adapting to us and our goals. It's important.
Andriy: Although there are moments that I physically can't do. Then the coach says "OK", let's try what's easier, but looks better.
Oksana: I remember in the Waltz he gave us a very difficult part. And before that, we had one that didn't work out as well. When we were working on that super-difficult part, the old one turned out by itself.
– Willing or not, the question arises: how did the family react when you took it seriously?
Oksana: First reaction: the daughter took it well, but the husband said, "Listen, I didn't sign up for this." It takes a lot of time. 2 hours four times a week after work – it's serious. I'm not at home in the evenings. It's one of the disadvantages when dancing partners aren't a couple in real life. Every family, where the only one member is a dancer, has to adapt to it, and it's hard. It's hard for me as well because I understand I don't pay enough attention to my family.
Andriy: But on the other hand, you would come home every evening and get at your husband. But you can just blow off some steam in the training, and that's it.
Oksana: Yes, the time I spend with my husband is better. All the not important issues disappear. But without the support of my husband and family, this wouldn't have happened. I would be in that hobby group dancing showcases. Regional competitions is one thing, but compete all over Ukraine or abroad – it's completely different. Therefore, I am grateful to my husband for support and understanding. We can say he's already "the manager" of our couple (laughing).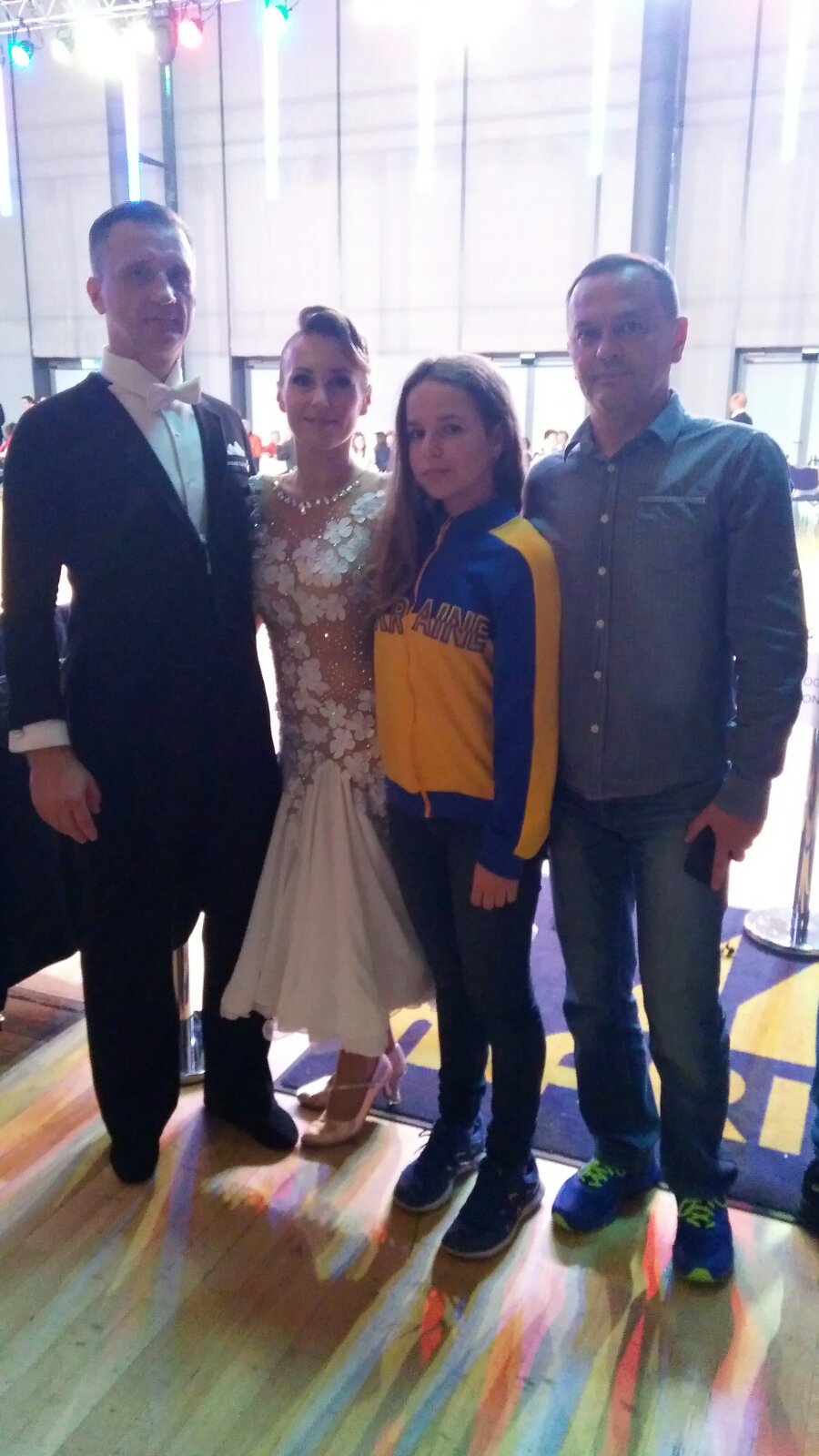 At first, we didn't even discuss international tournaments. But I'm all in dancing, reading some news about it, and telling him, "Look, there was a tournament abroad, the Ukrainian couple took such and such place, they're so cool." And, turned out, as they say, that water breaks down a mountain. He's also aware of what's happening in the dancing world because he receives a ton of information from me. And once he said, "Okay, when is the closest competition to Lviv? Maybe we can go? " I answered right away, "Riga, in December." He asked that in early October. "What, so right away?" he said. "Yes, why not? We can visit Kaunas and Vilnius en route" cashing in while I can.
So we started planning. I always travel by car with my family. This is a trip for them, where they can see a new country and support me in the tournament. My husband always takes a video of our performance, then the coach breaks it down.
The tournament abroad without seeing the country – we haven't had such a format yet.
– You only dance Standard, but where is Latin?
Andriy: After the first shot, I'm thinking about Latin, after the second – I'm a Latin dancer. After the third – I can dance on the floor (laughing).
Oksana: But then that's the dance party in which I don't wanna take part.
Andriy: Jokes aside, we danced Latin once, since we were in the hobby group, but there are 2 Standards +2 Latins. And then 4 + 4. But it's physically hard. It takes twice as much time.
Oksana: To compete in 10 dances – you should train all the time. If we did that from the very beginning maybe we would go further. We work so much on the Standard, and there are so many technical aspects we still don't know. And Latin – it's a lot of information. There, technic and many other things are so different. Maybe someday we'll get there.
– What is your goal – cups, medals, rating?
Andriy: We don't care about the rating. We took part in many competitions, a lot of times we won, but I don't have a single cup. Oksana takes it for her daughter. The feeling you get when you performed as you wanted, as you could – is priceless. But it happens rarely, so there is always something to work on. I remember only once I had such a feeling, but that time we didn't get into the next round.
Oksana: Yes, often your feeling doesn't match the way you perform. There are tasks that we are constantly working on, and our coach focuses on 2-3 aspects we should pay more attention before each competition. Victory at all costs is not about us, not about our category. We don't build a dance career. Sometimes you return from the tournament, and friends ask you, "What place did you take?" It's very difficult to explain to non-dancers that if you take third place sometimes it means nothing, and if you took 23rd, but there were so many strong couples, you feel like a champion.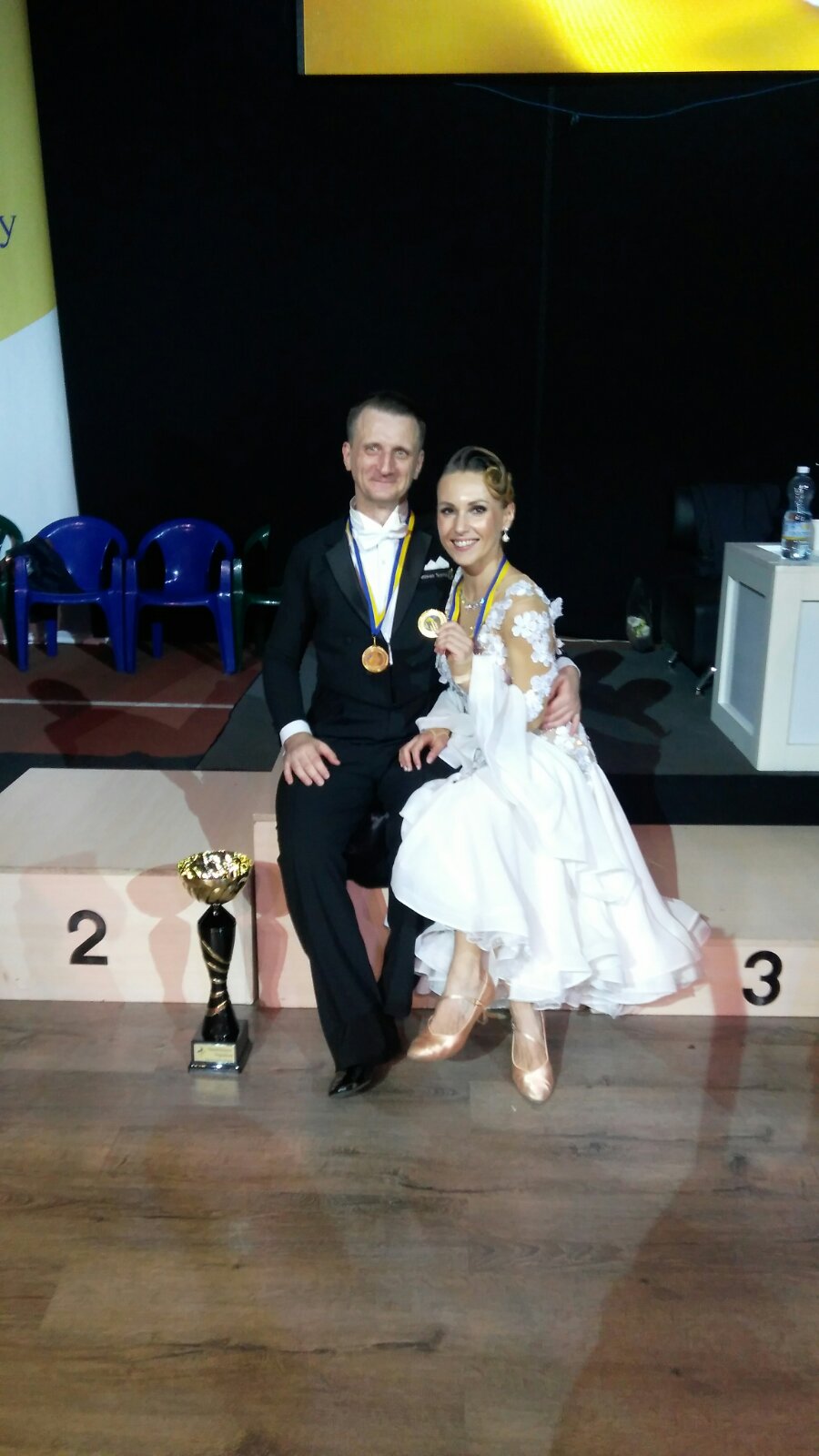 – Back to tournaments abroad. What stuck in memory? I mean both sport aspects and atmosphere.
Oksana: A lot of impressions. In Košice, for example, we made our first semifinal at international competitions. Then you look at the other couples, all of them are strong, and you still went through. This is exactly the moment in the sport that pushes you forward. In Dresden, the tournament had such strong couples that our more experienced colleagues said it felt like World Championship.
Andriy: There was the first round. Sitting, waiting, look at the other competitors. You catch yourself thinking: all of them performed well. There were so many couples from Germany who had just entered Seniors from Adults, and you've just started.
Oksana: When we made it to the quarterfinal in strong battle, it was an indescribable feeling. There was only "youth" on the floor. In fact, it's a big issue for tournaments when there are senior couples who only start to dance and Seniors who came from Adults. I'm for separation on Masters 1 and Masters 2. But those who were dancing since childhood don't want to go to these categories. Sometimes it morally unsettles you when you go on the floor alongside masters.
– What about the organization of tournaments?
Andriy: It's a "WOW!" When you check in six months before the competition, and then you know what day and what time you'll perform. Like it was in Riga and Vienna.
Oksana: Yes, in Riga we came out on the floor right on time and there was even an additional announcement for the judges, "Judges, we're waiting for you." They hurried up holding coffee.
The second "WOW" – floor and hall decoration. And it doesn't matter if you dance in the morning or the evening. Floor, light, everything is very festive. Music, hosts – amazing. In Riga, the host addressed the audience during quickstep. Fired up the audience, "People, you know quickstep's timing, cheer up our dancers!" Everyone stood up applauding. The host sang along to the beat, and we were flying on the floor. Such an atmosphere adds you strength. At local tournaments, you load yourself with some tasks, but it's different abroad. You come there, nobody knows you, and you're so impressed.
– Do you have enough strength during tournaments? I know some couples take energy drinks between heats.
Oksana: Our energetics – ginger tea and lemons.
– Do you often sort out your relationships during training?
Oksana: Yes, usually me. I'm just very demanding, I know that. In life, I'm demanding, in the first place, to myself. I'm not loading other people. But in dancing, I care about the progress of our couple. So Andriy has to listen to me. Sometimes he's silent, sometimes indignant, but what is important – each time we leave the dance class in a good mood. Once we tried to communicate differently in training as an experiment. I said, "I won't make any comments, but if you want to hear some opinion, just ask. I'll do whatever you say." At the end of the training, he came up and said, "It was so cool."
Andriy: We have different tempers, if she screams a couple of times, I just clam up. My astrological sign is Crab. But, on the other hand, Oksana is the driving force in our couple. If it's for her I wouldn't go anywhere at all.
Oksana: But then there would be no result. I'm Virgo – super organized. I have competitions planned for the whole year – where and when are we going. All life is now tuned to dancing. It's, again,  probably because of my temper. If I do something, I can't work half my ability.
– We know about your husband, do parents support?
Oksana: My parents are very supportive. When we showed them our first video from the International Championship, my dad was watching and crying. He said, "I couldn't imagine that my child would dance one day."
Andriy's mother is also caring. Once she said to him, "Give me your partner's phone, she'll at least send me some photos and videos from tournaments." She complained that she finds out from other people on Facebook that Andriy was somewhere.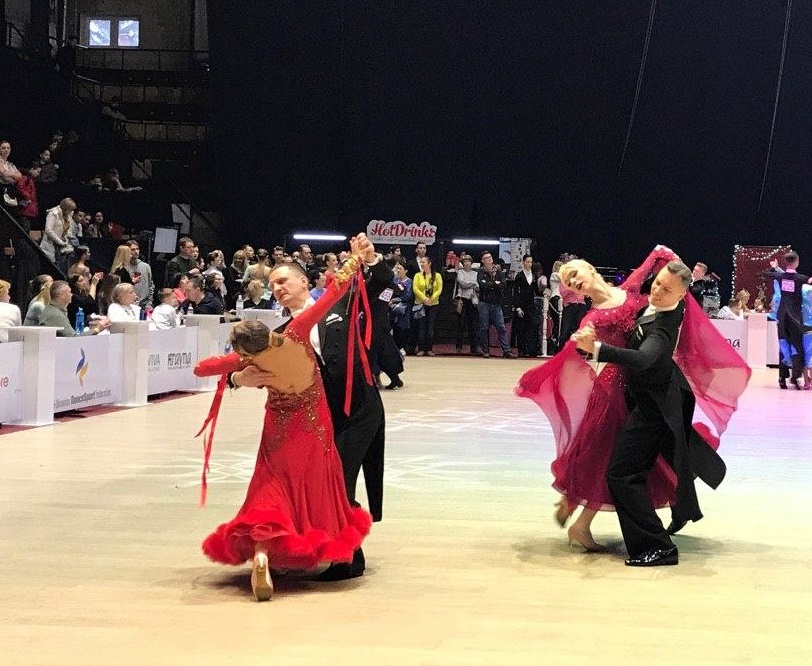 – We often say that there are only a few senior categories in tournaments. Why don't people over 35 dance?
Andriy: People dance. Accidentally we came to the training on another day, and there was a hobby group and the class was full, there were like 20 people. But they don't go any further. Finding partners at this age, who would take it seriously, is difficult.
Oksana: You won't dance solo either. Besides people of senior age go to social dances. Salsa, Zumba, Bachata. There are so many clubs like that, and no bindings to partners. It's easier. But ballroom dancing was originally aimed at the sports component. When you are young – your parents sponsor you, you have all the conditions and physical health. And when a person has a job, family, children and still goes on the floor to dance. Imagine how much time, energy and money this person spends. It means a lot.
Andriy: Besides, in tournaments, beginners usually dance in an uncomfortable time. For example, Saturday night – main competition,  Sunday morning – beginners. Babies and children categories, and you. So they feel uncomfortable.
– By the way, about physical health. In addition to dancing, what are you fond of?
Andrey: I like skiing, though it's a seasonal sport. Another one – volleyball, which I play once a week.
Oksana: And I run. As they say, from a heart attack to better results. About an hour a day. We don't live so far from each other. Sometimes I run past Andriy's house, tired, and think, "I bet he's still sleeping." I started running last spring. The level of our routine is increasing; the coach requires more from us. Sometimes you understand how to do it, but muscles can't. If there is a lack of cardio – you just run yourself out. Therefore, you should be physically fit.
– Any short-term plans for your couple?
Oksana: We're preparing for Vienna in May. We've already participated in this tournament, and it was fantastic. We'll take part in local competitions, but we would like them to have more participants. There are a lot of Seniors in Ukraine, and I believe our federation needs to create more conditions for Seniors' development. I would like the attention and support of our senior movement.
Photos from Oksana Khomiak's family archive were used.