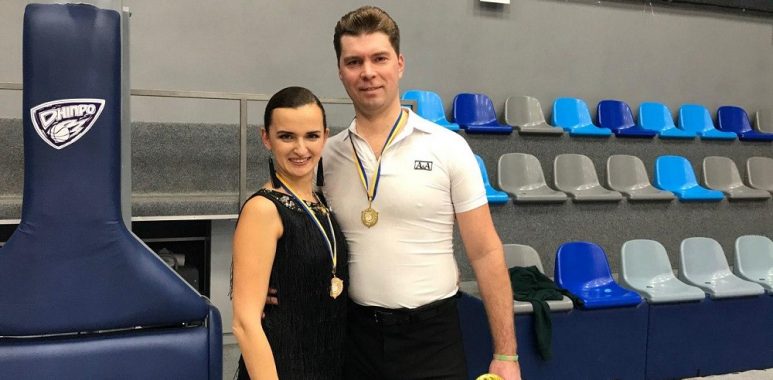 DMITRY DRAMSHEV – CATHERINE DRAMSHEVA: A WONDERFUL LOVE STORY IN DANCE TONES
There are unusual and touching moments in the life of each couple that will be remembered throughout their lives. Sometimes it's just impossible to believe this happened.
Senior couples are born differently. Sometimes it's a husband and wife who decide to do ballroom dancing at some point in their lives together. Or those couples who've been dancing together since college. And sometimes it is not couples, and people who just cannot imagine their lives without ballroom dancing. In short, there are plenty of options. But sometimes a couple is born at a happy accident, which is commonly called fate.
A couple from Zaporozhye Dmitry Dramshev – Ekaterina Dramsheva, representing the club "Style", can say that they owe ballroom dancing for the birth of their family, as their two adorable daughters Masha and Yulia make their first steps on the ballroom floor. Mitya and Katya have little experience of senior's dance, but they have already won several tournaments and have grand plans for the future. Everything started with that very happy occasion.
Mitya: We both started dancing back in school. Both of us started dancing thanks to our parents. I've been dancing for about six years at that time, and Katya about five. After that there was a long break, and we went back to dancing when we were both working. However, we were dancing separately, and Katya started earlier than me.
Katya: I danced at the institute in the KVN team. When the team ceased to exist, I decided to return to the club where I danced as a child. I couldn't refuse from my love for dancing. I went to a hobby class for two years without a partner, just for my own pleasure. My aunt, Oksana, danced as well, and I went with her for company. And then one day, I met Mitya.
Mitya: That day, we went out with a friend, a godfather of our future children, and drank beer not far from the Metallurgists' AC, where I studied as a child. I say: "Let's go to my former coach, Oleksandr Shcherban, I used to learn dancing from him. Let's pay him a visit." We went up to the second floor where the class took place. We talked to him, and I kind of jokingly asked: "Don't you have someone to dance with? A girl who isn't married." And he said: "There is one – Katya."
Katya: I remember, that day we were working on rumba.
Mitya: I said: "Okay, I'll be there." And about a week later, I came to practice. But Katya stopped dancing at that time for some reason, and I started dancing with her aunt. She didn't have a partner, and I danced with her for about two weeks.
Katya: And then Oksana called me and said in a strict voice: "Run to the class, there's a such a boy here!" I came at about the end of the training, and that day we just tried to dance. I remember that it was just the main rumba move. We realised we were both comfortable, so I went back to dancing. It was October 2007.
Mitya: Then we had a break, I went to the Carpathians, there were other things to do, and only somewhere in February next year we started to go to training regularly. At the same time, we started to see each other. After a year and a half I proposed to Katya, and we got married. A year later we had a baby and we rarely danced. Three and a half years later, a second girl was born. During this period, we came to training once a month or so. It was more of a conversation than dancing. And only when Katya left the second parental leave, the children grew up and the eldest went to kindergarten, we went back to training.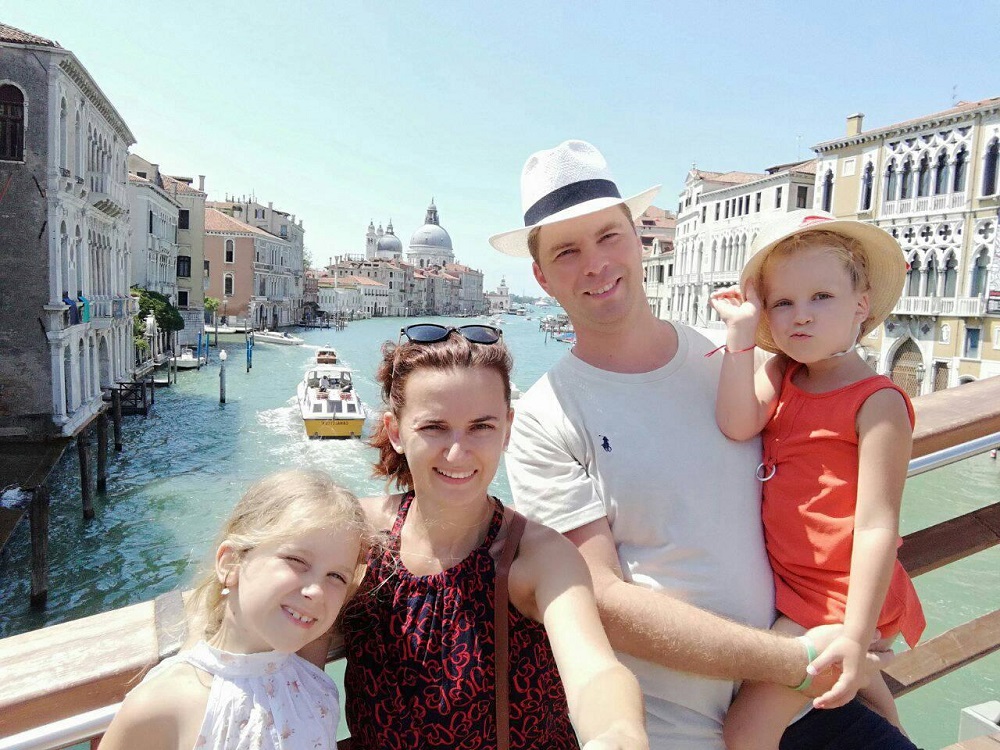 Was participation in tournaments your conscious decision?
Katya: We just wanted to get back our skills and did not set a goal to participate in competitions. It was in 2016. But six months later, the coach pushed us to participate in competitions.
Mitya: We had our first competition in Berdyansk, in June, in the "Adults" category.
Katya: Only they didn't tell me about it. I expected it to be "Seniors". But I didn't pass by age then, only Mitya.
Mitya: We specifically chose a small tournament to try our hand. As a result, the adults were not so weak, and in the first tournament we took third place out of three pairs. There were a couple aged 17-18, but by then they were already dancing long and well. But that didn't discourage us from dancing. What I like about seniors is that you don't compete anymore, you just enjoy the ride. Of course, there is a spirit of competition, and it's nice to reach the finals and get great marks. But you're more excited to meet people. With a family, work, children, routine, household chores it's like a breath of fresh air. So is dancing itself. We go to tournaments and communicate, meet new people, dance, and express ourselves. It's also great to see other cities.
Katya: We really like to travel. For us every trip is a blast. People often ask us how we manage to keep up with the house, work, children and dancing. But it seems to me that this is not that hard, if you really want it. 
As far as I know, for some time you danced only the Latin American program?
Mitya: We started with Latin. For about a year we were preparing a program. We only had one individual lesson a week, there was no more time.
Katya: Then at some point we decided that we were already bored and had to add a standard. We've been preparing for this program for another year. Now we already have two individual classes a week – one for standard and one for latinum. There weren't any group sessions. And in June 2019 in the same Berdyansk, at the same tournament, we made our debut in standard, and since September we have been dancing two programs.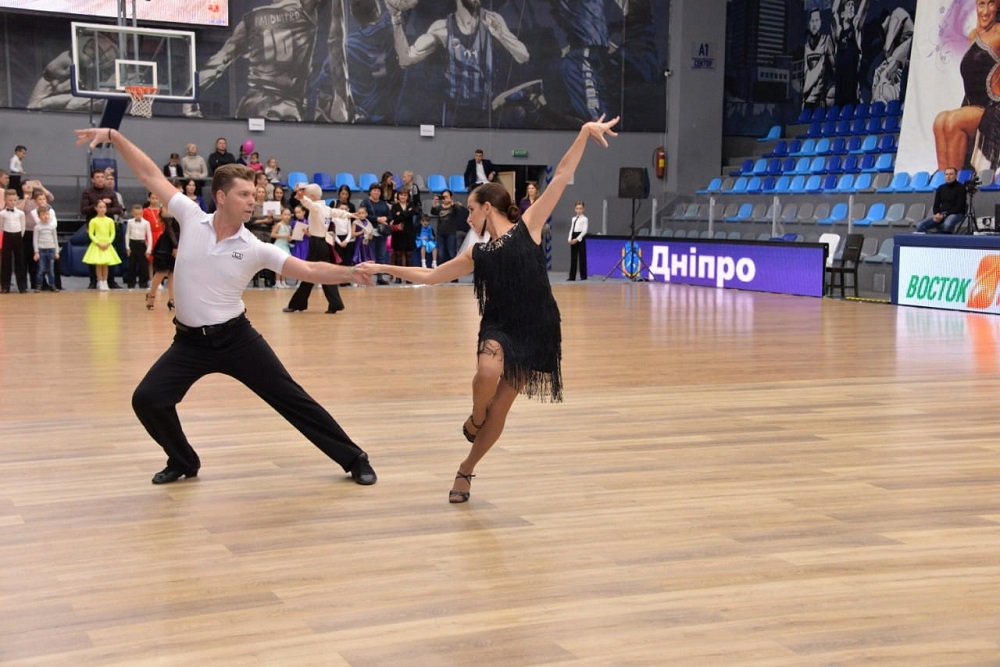 There is a widespread belief that coaches are often reluctant to work with senior pairs. They say it's not promising. How is the situation in your club?
Mitya: Oleksandr Ivanovych Shcherban and his son Anton Shcherban work with seniors in our club. They work with pleasure, they love this category, and they support us very much. There are about ten senior couples in our club, about half of them participate in competitions. The rest of them are in a hobby group. We mostly work with Anton.
How are the individual classes going – do you often have arguments?
Mitya: At almost every training session we have some arguments, some disagreements. I think it's normal, you can't dance and not say anything to each other. There are moments when I see that Katja needs some guidance and help somewhere. Katya often takes it as criticism and starts to fight it. Disputes begin. But most importantly, by the end of training we are on the same page. I believe that it is better to have a heated debate at a training session, but be calm at the tournament.
Katya: We have a situation that he danced in his youth at a higher level.  I danced a little just for fun, while he participated in competitions. He has more experience, and it happens during the training he uses this experience.
I can't help but ask about my favorite dance, because it's impossible to love everything equally.
Katya: A tango in the standard, and samba in Latin dancing. I hated jive as a child, and now I enjoy it a lot.
Mitya:My favorite dance is the Viennese waltz. Although it depends on the mood. When I feel aggressive, I like tango, when I'm absolutely calm, then I enjoy the slow waltz. Rumba is best for romantic mood, jive and quickstep are for fun. Each person has a lot of emotions, and each dance allows to express them differently.
How does your surrounding – friends, acquaintances – react to your passion for dance?
Mitya: Now everyone is supporting and rejoicing for us. And maybe they're a bit jealous in a good sense. But when I danced as a child, it wasn't all great. Because the guys were boxing, kickboxing, playing soccer, and I did ballet dancing. Among the guys it was somehow unacceptable, unprestigious, incomprehensible. It's different now. When I post pictures on Facebook, everyone cheers for me. Because most people are at home with kids and they think that they don't have time for anything else. They're looking at us dancing, going to pools, swimming and travelling. We can keep up with everything.
Katya: Our family is very supportive, especially our moms. Plus my aunt is dancing. Maybe we wouldn't be dancing without their support.
One of the most important issues for a female partner is dresses. Who's in charge of the dancer's wardrobe?
Katya: We have the main assistant when it comes to dresses – it's Mitya's mother. She used to sew ballroom dresses for his partners, and now all my outfits are made by her. She sews and redesigns the dresses. We just show the dress to Mitya, get his approval, but mostly we discuss everything with her.
Mitya: A standard dress isn't cheap. A couple of years ago, my mother was in Italy, bought a dress there and didn't say anything to anyone. She put the dress aside and presented it to us for our tenth anniversary after turning it into a standard dress. At that time we didn't even think about dancing the European program. Our moms are dancers and they're our main support. My mom often comes to tournaments with us.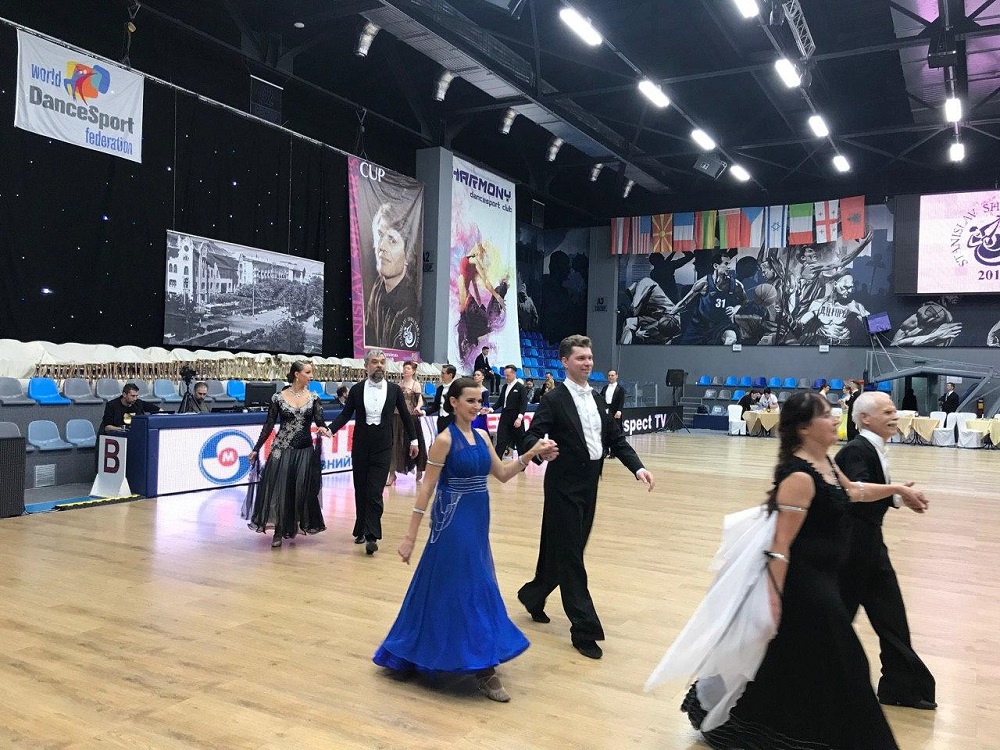 Are the kids starting to follow in your footsteps yet?
Katya: Our children went to the dancing classes  this year. It was their decision, we did not insist at all. We took them to the training sessions, took them to competitions. We waited for the moment when they wanted to start dancing themselves. And then in August they started training. The eldest, Masha, is 8 years old, Yulia is 5 years old.
Mitya: But we are not only interested in dancing. We've been going to the swimming pool for two years. We relax our muscles and it's good for our backs. We swim twice a week.
Are you different in life and on the parquet floor?
Mitya: In life, I'm calmer and more balanced than on a ballroom floor. And in dancing, I'm more emotional, especially in Latin. I can be daring and even harsh. I open up. Katya is also opening up, but not completely.
Katya: Yes, it's harder for me to open up on the parquet. I'm more reserved.
What do you like about the senior dancing specifically?
Mitya: When I was a schoolboy, I was in constant pursuit for entering finals, for the prizes. All my thoughts were about it. And when I failed, it was major – I wanted to leave dancing and fought with my partner a lot. And today we go to the dance classes not because our parents brought us there, but because we met there. Also, we just love it. At the tournaments, we have fun, and competition isn't a priority anymore. It is not the place that is important here, but the feeling you get when you like how you dance as a couple.
Katya: The mood at the tournament is also special. Communication is key.
Are there any tournaments that you would like to go to?
Mitya: So far we have only participated in Ukrainian tournaments, but in the near future we plan to open international competitions as well. I would like to take part in a tournament, which involves at least 50 pairs. Our primary goal is to dance at a tournament in Blackpool. Interesting tournaments are held in Shanghai and Singapore as well, and we plan to go there too. 
We used photos from the personal archive of the Dramshev family for this article.