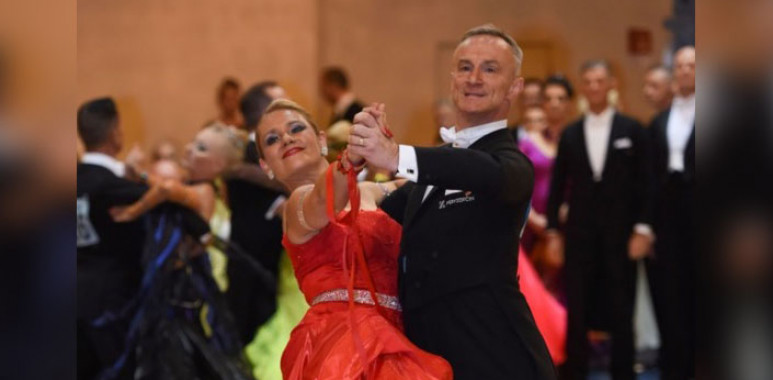 Senior dancing records: 345 couples and 16 hours on the floor
In some cases, in terms of physical form, Senior dancers can have an edge over the young people. They can easily dance on the floor for many hours without a break. As has happened more than once.
This has not happened before in Ukrainian competition history, but who knows what will happen in the future. There were cases when more than 300 couples took part in the international tournaments history.
The absolute recordset for the World Championship Senior III WDSF in the European program in Rimini (ITA) in 2016, where 345 couples have participated. Remind you that this category has an age restriction for one of the partners as at least 55 years old.
The best couples in this category started to compete for gold medals at 8:00, July 10. The winners had to dance 8 rounds, including the final, and were awarded after midnight.
Curiously, the next year after that record, we may notice an anti-record for World Championships in this category, where 72 couples have participated only.
It was for the first time at the World Championships in Senior III that less than 100 couples have gathered so far. It has a logical reason. The 2017 World Championship hosted in Miami, so most European couples decided not to fly to the United States.
The second and third most popular tournaments in Senior II standard took place in Stuttgart (GER).  In 2014, 298 couples performed there, and in 2015 – 267 couples.
Speaking of Seniors' records, there is one cannot be missed. The Blackpool dance festival is a cult tournament for dancers. Here the absolute record set in 2009 by 205 couples came to the floor in the European program.
The second and third results belong to the category 'Seniors over 50 years'. There were 198 couples,  participated in this category in 2018, and 192 couples in 2019 also in the European program.
On the picture: the winners of the 'dance marathon' in Rimini (ITA) – Michael Lindner and Beate Lindner (Germany).
Picture Source: goc-stuttgart.de