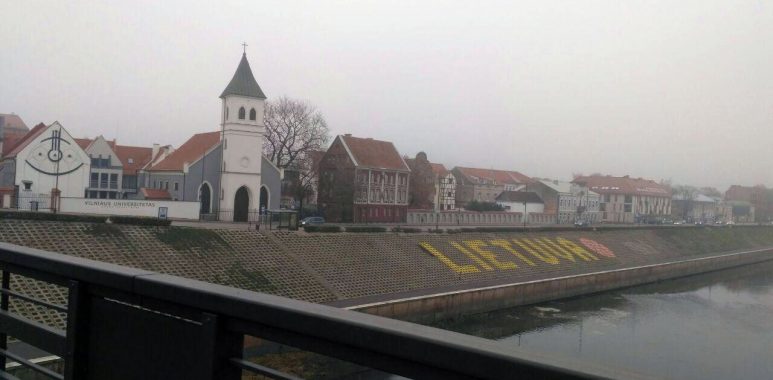 TRIP TO THE TOURNAMENT IN KAUNAS: ROAD, ACCOMMODATION, TOURNAMENT, IMPRESSIONS
The competition in Lithuania is an example of a budget trip to the WDSF tournament. In this article you can learn about our experience of travelling to the tournament in 2019 (November 16-17).
Road
The road to Kaunas lays across the capital of Lithuania, unless you drive by car. A round trip from Kiev to Vilnius costs about 1700 UAH per person, including luggage. One hour in the air, and you are already in the capital of Lithuania. There are several ways to get there – by bus, train, or taxi.
There were eight of us, so the taxi option was not available, though it was the most optimal. To our surprise, a minibus taxi was available at the Kaunas airport. A Russian-speaking driver Yuri helps with passenger transportation, and, according to him, he regularly meets athletes. He was ready to take 10 euros per person to Kaunas. However, we already bought train tickets, so we decided to get a trip from the airport to the railway station for 2 euros per person. As a result, moving from Vilnius to Kaunas cost 6.95 euros (4.95 for a train + 2 euros for a taxi).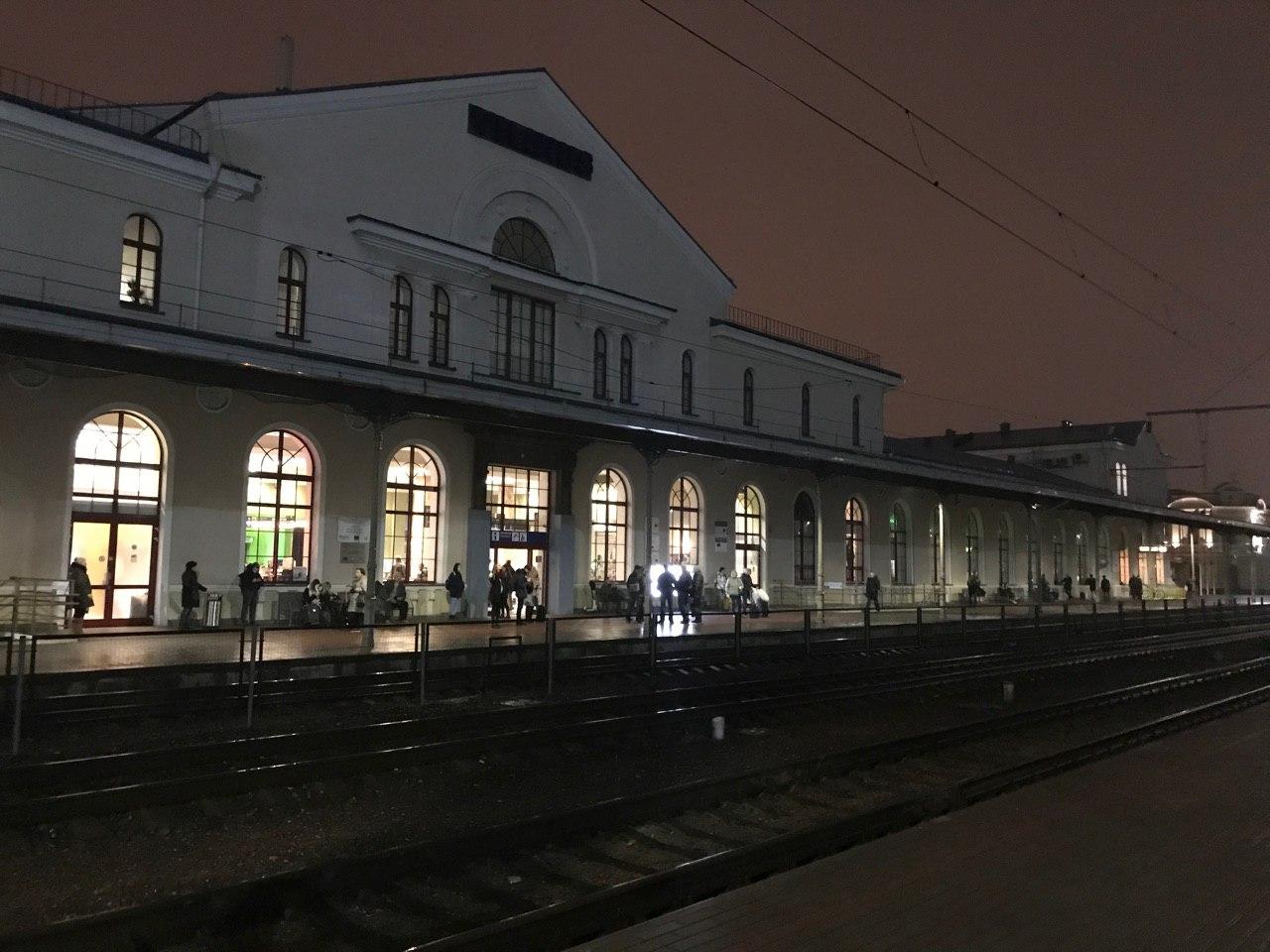 We agreed with Yuri that he will pick us up from Kaunas and drive us back to Vilnius airport for 10 euros per person. The minibus is comfortable, the driver is sociable, and we arrived in just one hour with comfort. The train takes about 1.5 hour. Due to the railway station renovation in Kaunas, the train comes to the Palemonas station, which is on the outskirts of the city. However, you can get to the city center in just half an hour on a large free bus. 
You can also get from Vilnius to Kaunas by bus, the price is about 7 euros, plus the transfer from the airport, as there is a bus station near the railway station.
Accomodation and commute
We rented an apartment in Kaunas via a popular service AirBnb. The apartment was situated in the heart of the city near the main street, within walking distance of restaurants, cafes, supermarkets and main attractions, as well as the Neman River. Apartment was with all conveniences, including kitchen, two bedrooms and a huge hall. There was enough room for everyone in our three families. The cost of living per person was 18 euros per day (without food). The hotels in Kaunas were much more expensive. There may be hostels with lower prices, but we did not consider them. We had children travelling with us, so we needed at least a minimum level of comfort.
Taxi around the city costs 5 euros per car and can get you almost anywhere for this price. We paid 6 euros to get to the tournament venue, because the sports complex was located in the suburb of Kaunas – Garlyav, 20 minutes from our house by car.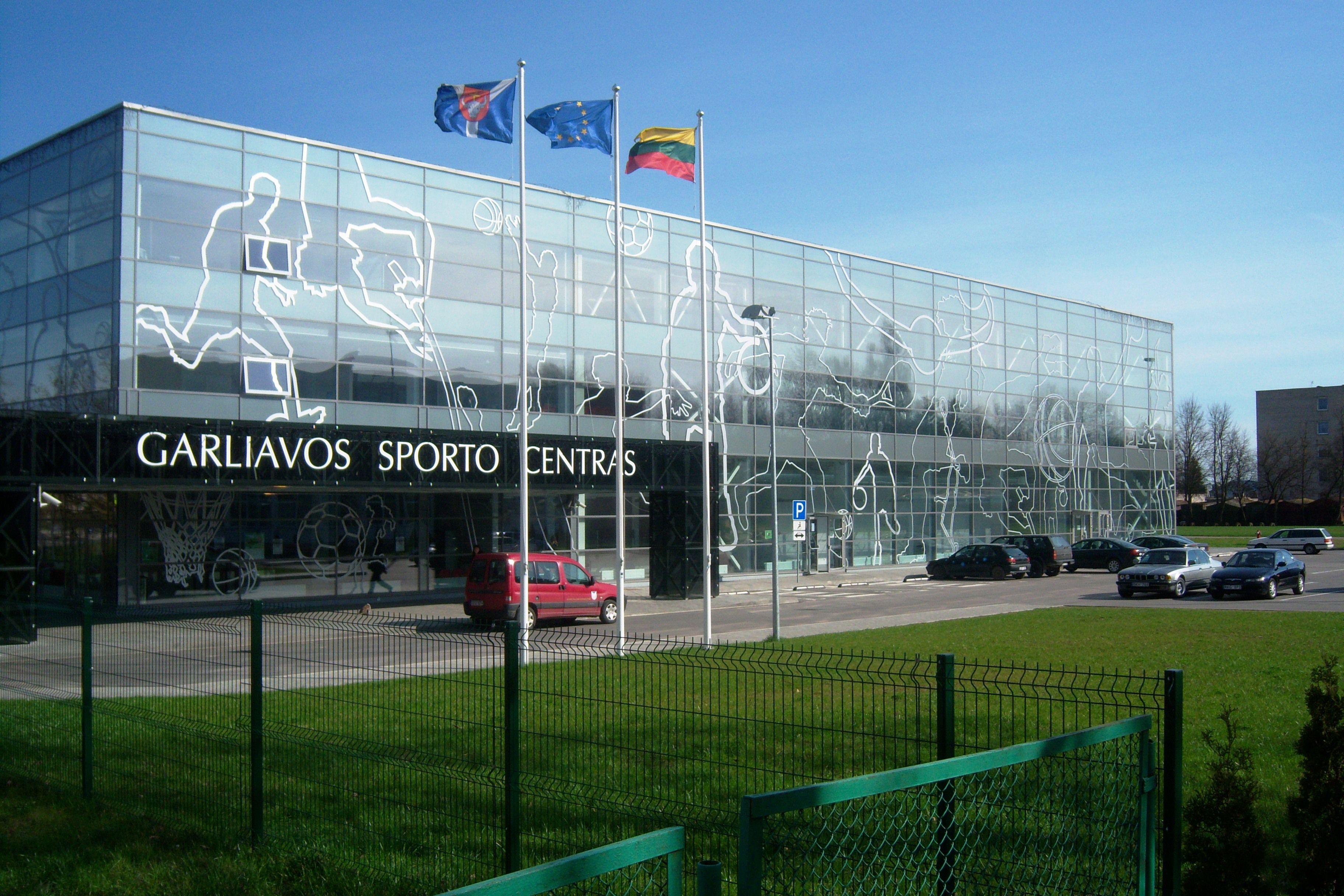 On the first day of our stay in Kaunas we got acquainted with a local taxi driver who spoke Russian well, so we called him to take us not only to the tournament, but also around the city. As there were two couples in the car, the trip from the tournament and back cost 6 euros for each couple.
Popularity of the tournament
There are two tournaments that take place in Kaunas: one in spring, and another in autumn. The cost of participation in the autumn tournament in 2019 was 50 euros per pair for one program. But in any adult category of WDSF at the tournament, senior pairs could participate for free. Not all categories were represented: for example, in 2019, there was no Latin category for Seniors I.
The representation of couples over the past three years can talk for itself, when it comes to the tournament's popularity.
2017
Senior 1 St – 13 couples from 8 countries
Senior 2 St – 17 couples from 8 countries
Senior 3 St – 10 couples from 8 countries
Senior 2 Lat – 14 couples from 6 countries
2018 
Senior 1 St – 12 couples from 9 countries
Senior 2 St – 16 couples from 9 countries
Senior 3 St – 16 couples from 8 countries
Senior 2 Lat – 14 couples from countries
2019 
Senior 1 St – 16 couples from 10 countries
Senior 2 St – 22 couples from 10 countries
Senior 3 St – 22 couples from 10 countries
Senior 4 St – 11 couples from 5 countries
Senior 2 Lat – 13 couples from 8 countries
Performances of Ukrainian couples at a tournament in Kaunas
In 2018, Vasyl Porokhovsky – Olga Baltrunas from Lviv took third place in the Senior 1 St category. In 2019 they reached the final once again, and took the fourth place.
In 2019 Pavlo Orol – Olena Orol (Kyiv, Senior 3 St, Senior 2 Lat), Oleg Rodkin – Isabella Rodkina (Senior 1 St, Senior 2 St), Oleh Tykholyz – Olena Tykholyz (Dnipro, Senior 2 St, Senior 2 Lat) took part in the competition as well.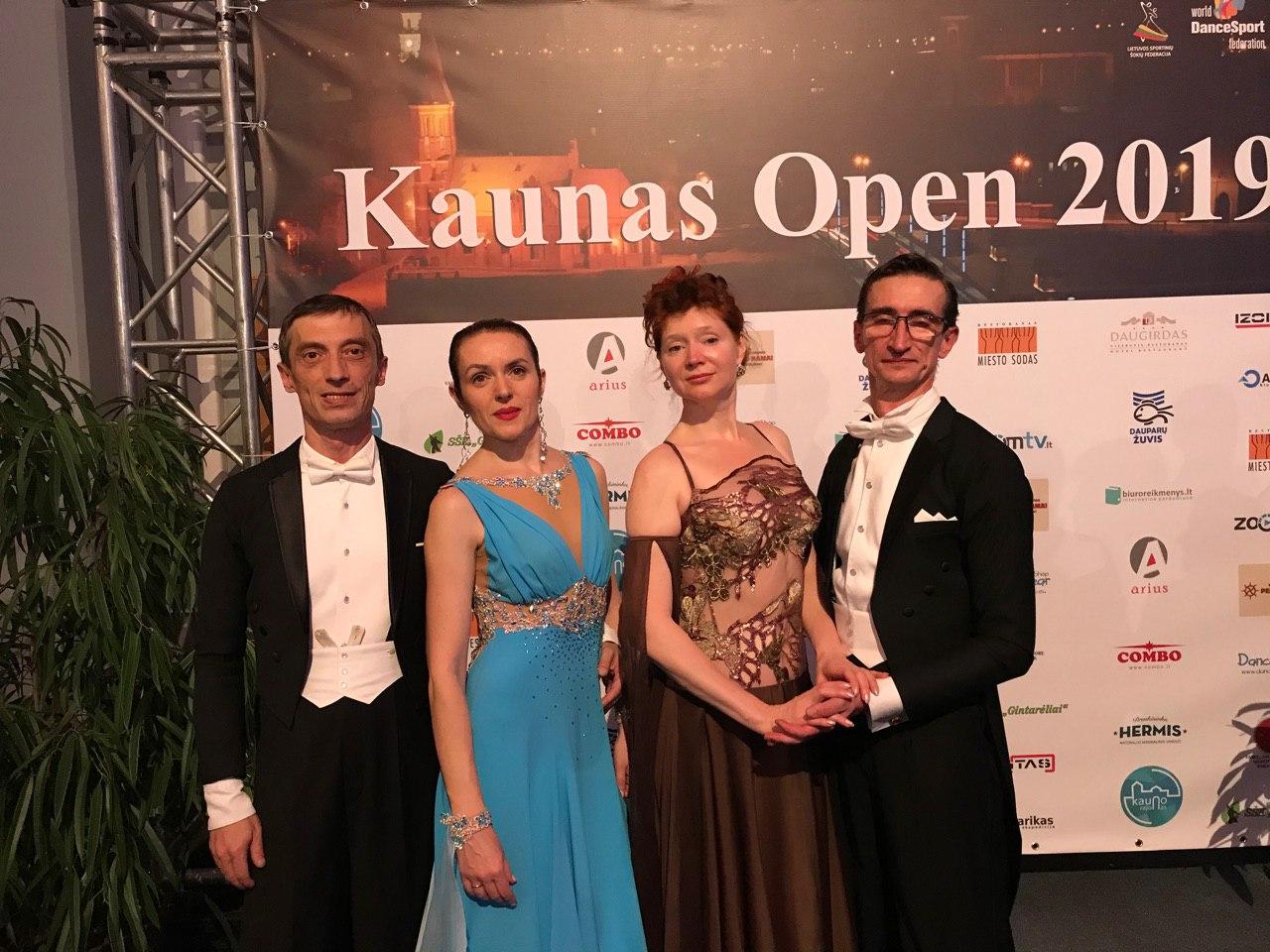 A nice bonus
One of the peculiarities of the tournament in Kaunas is that they invite star couples to perform. In 2019 Donatas Vezelis – Lina Chatkeviciute from Lithuania demonstrated their professional skills in a standard category. Since last year they have been performing in professionals, and before that three times they were second in the WDSF Amateur World Championships (2015-2018), European Champions (2018) and World Champions in Show Dance Standard (2016). 
However, after the performance we managed to take pictures of the kids attacking them to get a photo. And all the kids you see on the photo are Ukrainian couples who came to the tournament in Kaunas. There were quite a few representatives of Ukraine in Juniors, Juveniles and Youth groups.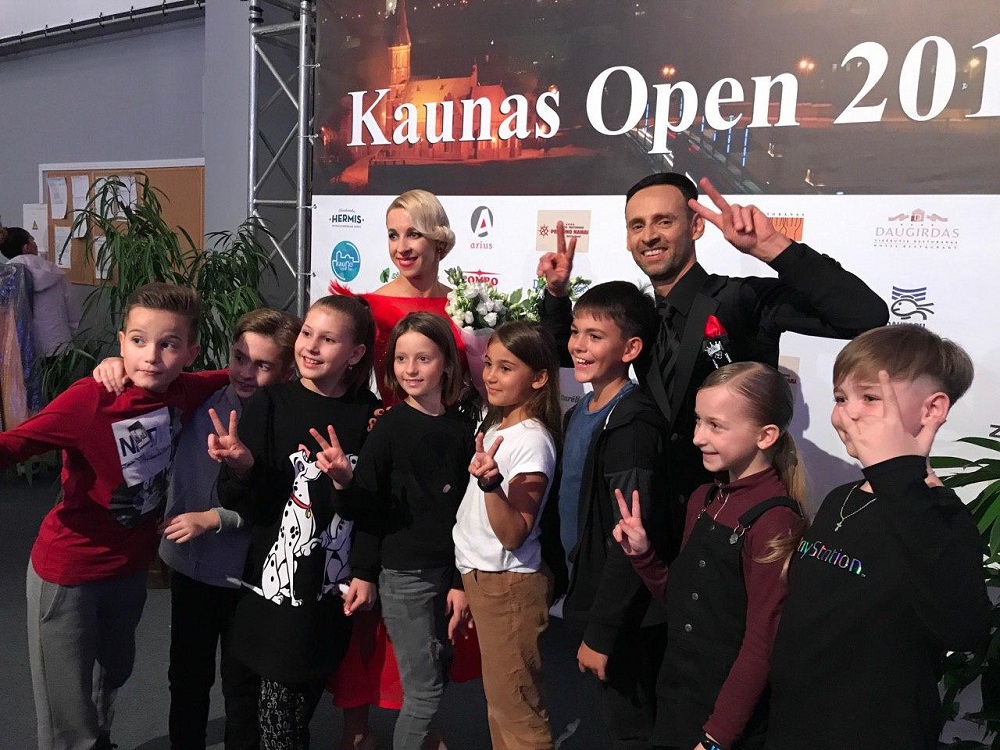 Of course, to see such masters on the parquet floor with your own eyes is an additional motivation to visit the tournament in Kaunas.
Culture and leisure
There are not many restaurants in the main streets of Kaunas where you can have a meal and rest peacefully. There are a lot of bars, coffee shops and pubs that serves mostly fast food to the local youth. We were looking for a restaurant with national cuisine and a relaxed atmosphere. We found all we wanted in Etno Dvoras. I'd like to avoid advertising it, but here the cuisine is natural and truly national – from pickles to main courses, and very tasty craft kvass as well.
The restaurant claims that they use Lithuanian products only. We can't prove it, but it seems to be true. The menu is also interesting, as it specifies all the ingredients and even seasonings next to the name of the dish and the price. 
This is made specifically for people allergic to certain ingredients. The cost of the main courses, which are quite large, ranges from 6 to 9 euros. You can have a tasty and hearty meal in Etno Dvoras. This restaurant is situated right in front of the town hall.
Kaunas is quite a beautiful city with places worth seeing, for example, an old fortress and a museum of devils. There is also a military museum, the museum of Ciurlionis for those who love art. There are two wooden cable cars as well. For 1 euro you can go up and down the mountain. However, the distance is very small and it is more a tourist lure.