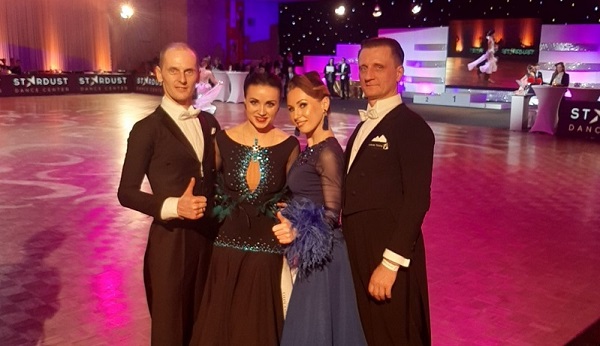 Kyiv Open Сhampionship 2020. Senior 1 Standard. Video
Senior standard category at the international tournament in Kiev showed that Ukrainian couples are competitive in the fight against recognized masters of ballroom dancing.
The competition for medals for the representatives of Ukraine is still ahead, but so far in Kiev, they looked organically in the company of favorites. Of the ten couples in the senior standard, four represented Ukraine, and two of them reached the finals – the winners of the Cup of Ukraine Andriy Kokodynyak and Oksana Khomiak from Lviv, as well as silver medalists of the national cup – Serhii Smitiukh and Halyna Smitiukh from Kovel. They took 5th and 6th places respectively. And for Serhii and Halyna Smitiukh it was their debut in the WDSF senior category.
Last year's winners Serhii Shulga and Olga Shulga from the Netherlands became the triumphators of the competition in Kiev. They are on the 10th place in the world ranking.
Second place was taken by Nerijus Stukas and Laura Montvilaite from Lithuania. Today they are the 28th in the world. Bronze awards went to the Belarusian pair Sergei Solozhentsev – Anna Maltsava. They are in 46th place in the world ranking.
The fourth to finish were representatives of Slovakia – Pavol Zalom and Blazhen Zalomova. Two weeks before the tournament in Kiev, they took part in the world championship among seniors I in ten dances. In the world ranking, they are 37th.
The tournament was also attended by representatives of Belarus – Dmitry Haurylin and Victoria Haurylina, Austria – Eckhard Grocz and Gabriela Grocz, as well as Ukraine – Yevhen Kochura and Zhanna Vashchuk from Kiev and Oleh Tykholyz – Olena Tykholyz from Dnipro.
Slow Waltz
Tango
Viennese waltz
Slow Foxtrot
Quickstep
Foto: Oksana Khomiak