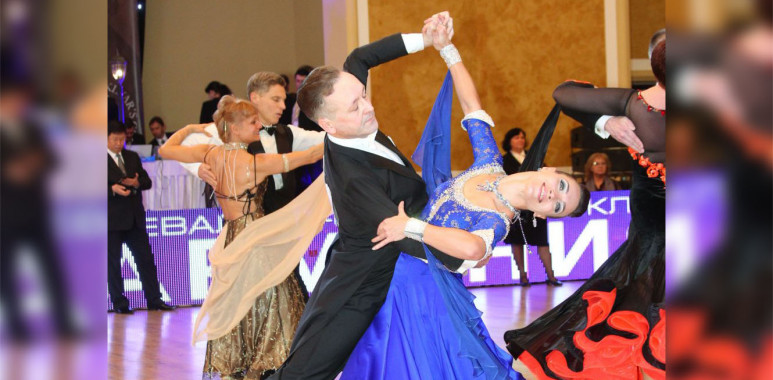 SERGIY SHAF – OLGA SHAF: FROM PARTIES AND HIKES TO THE THIRD "REINCARNATION" IN DANCING
The couple from the Dnipro, representing the club Harmony, went a long and difficult way from a hobby class to participation in the finals of the European tournaments.
Sergiy and Olga Shaf are well known Ukrainian senior dancers, and it is nearly impossible to name an advanced tournament in our country, in which they haven't participated. Moreover, they are traditionally considered the favorites of any competition, and over the past few years they confidently compete against the European couples at international tournaments. 
However, it's obvious that this didn't happen out of the blue, and they owe their success to their constant work, self-exploration and shaping their image and style. However, even today they are quite critical about their dancing and aspire to be even better. At the beginning of their dancing careers the priorities were somewhat different.
Let's start with the traditional question – when and how did you happen to start dancing?
Sergiy: It's scary to even think of, but it was in the distant 1997. I was a student at that time and was working at the Metallurgist stadium market – "tea, coffee, cappuccino". I heard an ad on the loudspeaker about the new group for the dancing classes. In addition, the classes took place on the Kazakova Street, where the University hostels are located. I saw there posters that said the club "Harmony" was inviting new people to classes.
Olga: I started dancing a year earlier than Sergiy. I accidentally got acquainted with a guy who "infected" me with interest in dancing. It was the end of August, there was a recruitment process going on to the group coached by Sergiy Beznysko. At that time he both danced himself and trained the group. I tried dancing, and I liked it.
Did you have any previous experience in dancing or sports before then? 
Sergiy: I've never danced before, and did sports just to keep fit, nothing more. I was more attracted to music and art before, I was a singer in a band.
Olga: We were both zero-level at that time in terms of dancing. I had musical education, but there was no sport and dancing before in my life. Frankly speaking, our dancing lessons at that time could hardly be called sport at all. It was more of a hobby group. Sergiy Beznisko has a very strong charisma. He used to unite us together during the trips to Crimea, parties and hikes. But in terms of dancing we didn't develop quickly. The requirements for ballroom dancing, and the technique were completely different then. Sergiy was more focused on getting pleasure from dancing, not on professional results.
Did you become a pair at once, or you went in a roundabout way?
Olga: We danced with other partners and we didn't pair up right away. But our hiking experience laid the foundation for both dancing and living together. It just so happened that at some point we were left without partners. We were thinking of other options and choosing. By the way, at first Beznisko said that we were not suitable for each other, but time has shown that he was wrong.
Olya says that she chose a partner. In a way, it sounds strange, given the lack of partners now.
Sergiy: Then it was the peak of ballroom dancing popularity among both students and adults. Hobby class groups were 30 people each, so everyone had something to choose from. There were about as many guys as there were girls. It was very rare when a girl remained without a partner. We just happened to be paired up, and we've been together ever since.
Do you remember your first tournaments? Your first outfits?
Sergiy: The first tournaments were not very serious either. Everybody went to dance in a hobby class in Donetsk, for example, and we went for a company as well.
Olga: Then there were no special dancing outfits. I sewed my own dresses, although today I sew my own dancing outfits too.
Sergiy: Actually, we became interested in tournaments after we moved to the group of Elena Martyshenko. But it didn't happen right away.
What changed when you started training with Elena Martyshenko?
Sergiy: Lena is a person that always aims for the result. When we came, her group has been existing for a long time. We just joined her and immediately found ourselves behind everyone else. We saw that she taught her couples in a different way. Lena is more demanding. It's hard to hear praise from her, but you can definitely tell if you achieved something when she says about it.
Olga: Lena once said: "It's easier for me to kill you than to teach you." Despite the fact that it is very hard to relearn as an adult, she was able to give us the technical base, which is still working. We're very grateful to her for that. Dancing in this group was interesting for us. The guys were younger than us, of course, but not by much. We went to different tournaments together – to Donetsk and Kharkiv, and also celebrated the holidays together. Our team started dancing in C-class together. But today we are the only ones left from this team who still continues dancing and taking part in tournaments. The group ceased to exist. Someone just left, someone "took a parental leave", someone left the city. And so we joined a new group of Andrey Babiy. Figuratively speaking, this is our third "reincarnation" in dancing.
Sergiy: But now we are much older than others in our group – we are the age of their moms and dads, and for the ten-year-olds we may already be old people. There is a picture before our eyes: there is an oak tree, and it stands there for years, while younger people become older, and then even younger ones appear. I feel like an old tree, surrounded by people of younger generations. 
Do you remember your transition to senior dancing?
Sergiy: There was no sudden transition. It so happened that we were admitted to senior dancing in Ukraine before we reached this age. After 30 years, we could already join the senior group, and I think we weren't an exception.
I know that you have always been very demanding to yourself, and you work a lot on your dancing technique. Was there someone who turned your perception of ballroom dancing upside down?
Sergiy: Olya is a leader when it comes to dancing technique. She remembers everyting, though we learned a lot of technical information during this time. And there is always something to correct. Did someone turn our idea of dancing upside down? Yes, lots of people did. The seminars with World and European championship finalists Vaidotos Lacitis and Veronika Hungry were the main indicators. Also we found our local seminars with coaches from Ukraine and Russia (Sergiy Kravchuk, Valeriy Tsikhanovsky, Oleksandr Gaidash, Sergiy Bryukhov), very useful as well.
Olga: I would put the question a little differently. We are constantly trying to "catch up" with the technique, which is rapidly improving. Ballroom dancing is changing so fast that our task is just to catch up with the level that is growing not by days, but by hours. When you stop chasing this level, you immediately begin to lose skills.
This is almost a Shakespeare-level question: Standard or Latin?
Olga: It's like choosing between an apple and an orange. I love both. If it was so simple, we'd choose to dance only the standard, which in many respects we are better at. But firstly, without an alternative program, which you can switch to, the conflict in the pair is more likely. Secondly, the body develops better when you work in two programs. I'm afraid that if there is no outletl ike this, everything will come to an end. Besides, I get more satisfaction from dancing the standard together. Latin gives the opportunity for emotional self-realization. There's more freedom, more opportunity to be yourself, and in the standard you can only be a couple.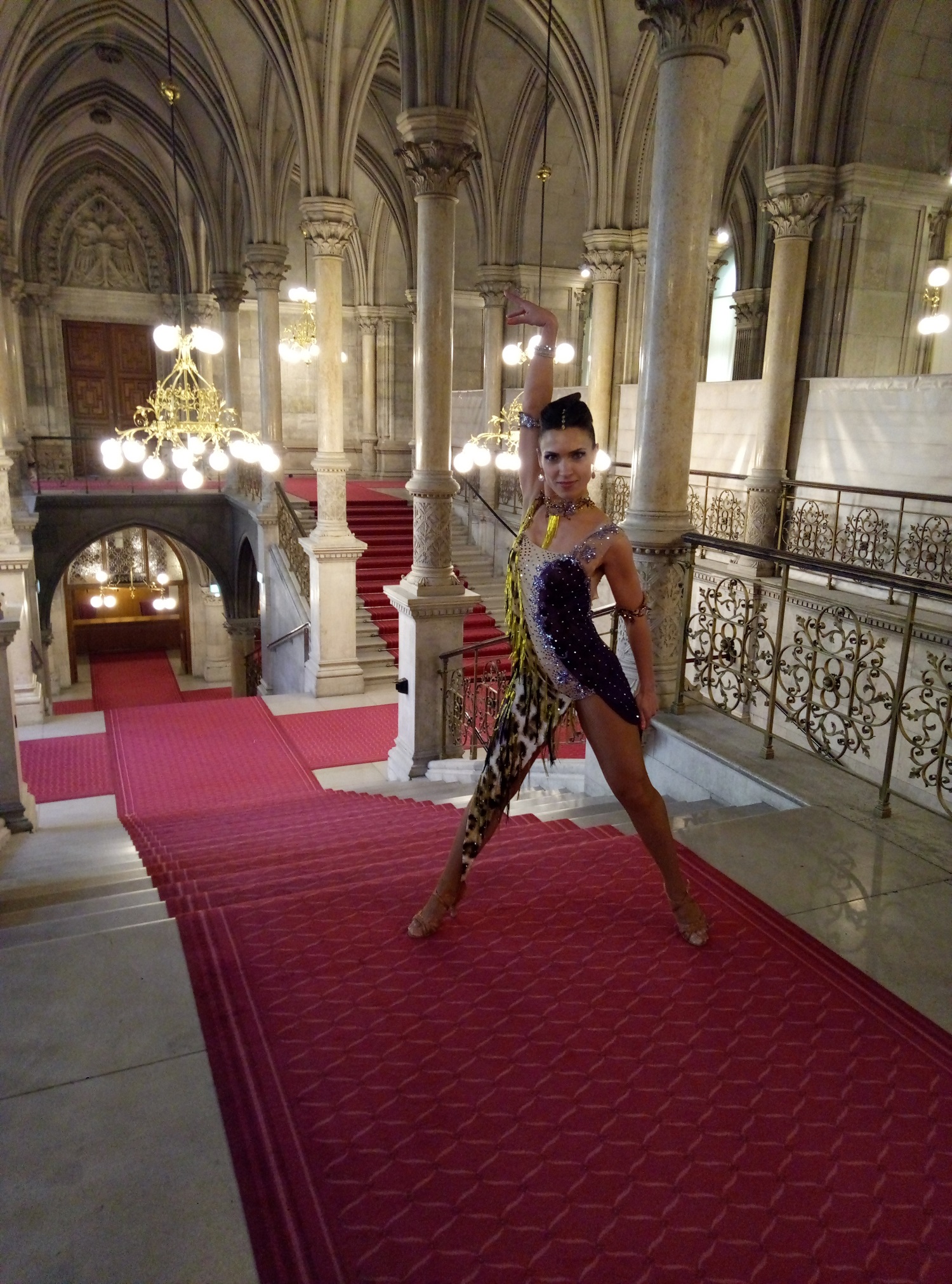 Were there moments when there was too much dancing, or did you feel that it was no longer a pleasure, but a job?
Sergiy: Over the years, the attitude to dance changes. At the start, the very process of dancing was a pleasure and I didn't care about how I danced. Now I enjoy quality dance. If you have succeeded and you felt inner freedom, felt what you think you should feel while dancing, it's a great pleasure. And to achieve that, you have to work.
Olga: We study 4 times a week for 2-2.5 hours on average, including group lessons, although for us it is not enough. The older you get, the more time you need to learn a new skill, so it's hard to spend less time on dancing.
Do you have a goal to win some sort of title – for example, to become champions of Ukraine?
Sergiy: We have already outgrown the period when we wanted to get a title, to become champions. Of course, if you go to the tournament, you want to reach the maximum goal, otherwise why compete? If we go to a European tournament, the task is to perform as best as possible. And the place you take there isn't that important, because a lot depends on how many pairs have arrived, what level these pairs have.
Olga: The title is not so important. This is another cup, medal or certificate… What's important is your skill. Although, surely I want to become a world champion. Maybe in Senior-3 we will succeed. I thought once: what else can I achieve in this life? I think I can become a world champion, if I'm lucky, of course.
Was the transition to international tournaments a conscious decision?
Olga: We were "transferred" to the international level by our friends, who have long participated in such tournaments.  When we saw the attitude abroad to our category, it inspired us. It turns out that seniors are not a reservation, but a sports category. We learned that it's necessary to take part in international tournaments and that it's worth it.
Why isn't it like this in Ukraine?
Olga: Because the general culture is like this. There is a stereotype that seniors dance badly, that it is hopeless, that in this category there are, if not losers, then definitely not skillful dancers perform. This stereotype is so strong in Ukraine that amateurs or professionals do not go to the seniors when they reach a certain age, while in Europe such a stereotype doesn't even exist.
Sergiy: We do not even have a rating among seniors, and we are included in the category "Adults". It's just that we have 4-6 pairs participating in the championship of Ukraine, and if we managed to gather representatives of at least 10 regions, the category would be completely different, it would make sense to fight for the title of the champion of Ukraine.
Olga: I would also like to feel support from the federation. Younger categories are supported and sent to tournaments. Seniors represent the country at world tournaments entirely at their own expense. I hope that the situation will change in the near future. I think, it is already beginning to change.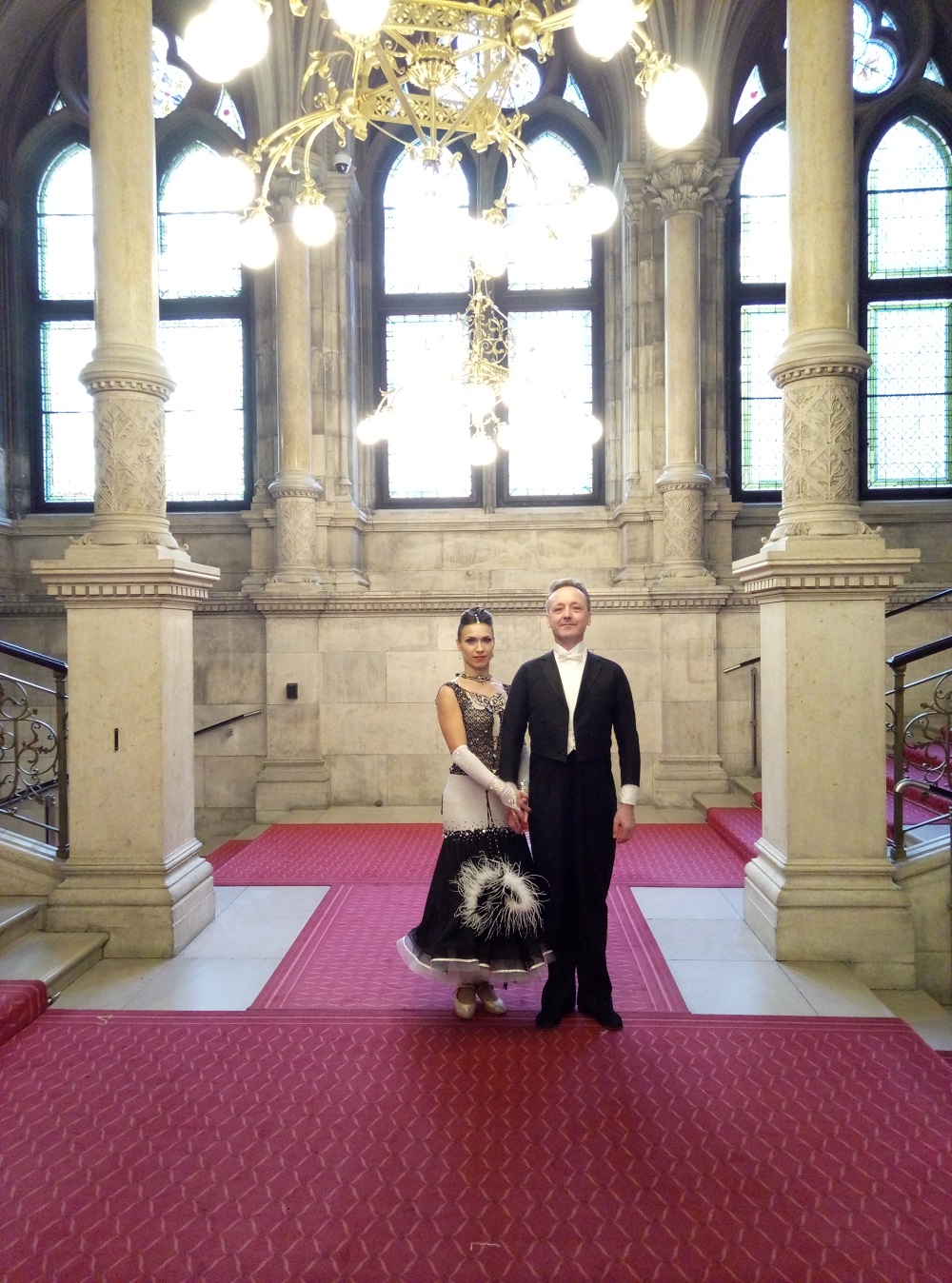 Sergiy: The attitude to seniors from the tournament organizers is changing for the better. In Kharkiv, the attitude to seniors is very good. This can be seen in the starting fees, and in everything else.
Do you feel supported in the club?
Olga: Head of the "Harmony" club Oleg Petrovsky treats seniors very well. He protects us, I would say, always meets us halfway. At the "Shklyar Cup" seniors always perform at the most rated time.
In your opinion, why don't adults go to the dancing classes, or, if they do, why don't tjhey rush to participate in tournaments?
Olga: We caught those times when there were categories of Hobby-D and even Hobby-E, and tournaments gathered 20 pairs and more. Adults had a place to dance. With time, these categories became almost extinct, and now you often don't even meet categories C at the tournaments. Where are dancing adults supposed to go? Only to the Rising Star. And there the majority are junior and youth couples, their level of training is higher, they dance from early childhood, and "hobby" has very little chance to win over them. Naturally, when there is no prospect of participation and victories, most adults stop dancing without reaching the seniors.
How do your relatives, your daughter, feel about your dancing lessons?
Olga: My daughter understand my passion. She's not interested in ballroom dancing, she does modern dancing. They have their own party, their own competitions. Parents, especially Segey's mother, are proud of us and like watching videos. My dad is also constantly wondering where we were, what places we took. They got used that it's an important part of our lives. They are not surprised by anything.
How important is ballroom dancing and are there any other hobbies in your life that unite you?
Sergiy: Ever since we went dancing, we also started hiking. We travelled around the whole Crimea, and not once, but unfortunately, since 2014 we have not been there. Over the past five years we have toured virtually all the Carpathians.
Olga: Dancing plays a very important role in our lives. Although sometimes it can be scary. Firstly, because it will end sooner or later anyway. Nothing lasts forever. From time to time I think about it. But it's also scary to be addicted to it. What if something happens and you can't dance anymore, how can you live with it? And in general, dancing plays a huge role in relationships. They simultaneously replace the therapist, a fitness trainer, a psychologist, any communication clubs. It's the best way not to bore each other ever. Dance is the main protector from becoming a couple where both are sitting apart with their gadgets and don't communicate much. Now we have a common purpose, leisure, we spend time together. Dancing is the way to create our common world.
All the photos are taken from Sergiy and Olga's personal archive.